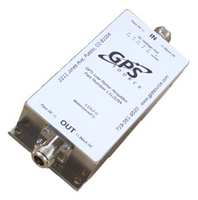 Since the GPS signal is very weak, at average minus 130 dBm, it often needs amplification before a system can use it.
GPS Source has developed a wide range of amplifiers, suitable for every possible situation.
Based on military developments the new Amplifier 2,0 (METROe) is a self controlled, self testing RF amplifier. Which is compliant with ETSI-EN 302 645, and is CE certified.
Display 25 Products per page